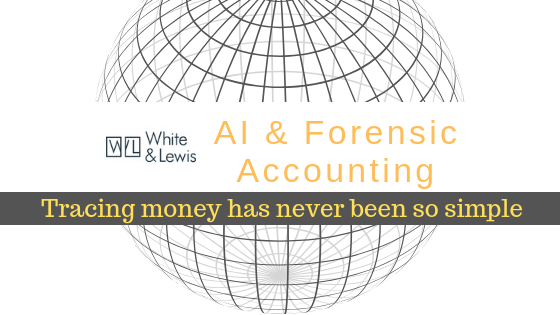 Recently, a lawyer called me with an urgent request. "Brandon, can you trace funds through four different bank accounts over a seven year period and let us know what the money was used for?"
This type of request was familiar to me – tracing of excluded property for purposes of determining the Net Family Property of a client involved in a matrimonial dispute.  Before I could respond, the lawyer went on to say "…I know that you will probably need a few weeks to enter the data and then analyze it, but we need it at the end of the week and I know it's Tuesday already…." I quickly interjected and replied "I can have an analysis done for you by Thursday." She started to laugh. "No seriously…" she said. I interjected again and explained to her that I could complete the work quickly and accurately. I further elaborated and told her that I could accomplish this task within the tight turnaround time with the help of an Artificial Intelligence tool and how this is evolving the world of forensic accounting…it's a total game changer.
The days of onerous, time-consuming manual data entry are over. Regardless of whether I was searching for transaction anomalies as part of a business valuation mandate or performing a "sources and uses" tracing analysis in a fraud matter, without question, the work was time-consuming, tedious and expensive for the client.
With the systems we leverage today, our firm is able to reduce hours of "grunt work" associated with data entry, cross referencing and line-by-line manual checking. We can use our time more efficiently on analyzing the results and preparing reports – the aspects of the job that truly require our expertise.
We're able to deliver high-quality products on time, for less money. So, this all sounds great. But how does AI work and is it accurate and secure?
Our platform analyzes banking and credit card documentation from every financial institution in Canada and the United States – regardless of format.
We are able to work with image files, scanned PDFs, e-statements and even pictures from mobile phones.
We can automatically track money movement and account balances.
Our platform leverages machine-based learning for customized analytics.
Our system has been tested – it can automatically review bank statements with over 99% accuracy.
We can generate customized analytics based on the type of business we are assessing.
We can parse transactional data at high speed.
Our system is secure – it is run on best-in-class infrastructure, and utilizes Bank-level AES-256 bit encryption, SSL Authentication and Multi-Factor Authentication, which is the same level of security as the U.S. Department of Defense and the NSA.
For additional information on our forensic services, contact Brandon A. Lewis, CPA, CA, CBV, CFF at brandon@whiteandlewis.com